Holiday Order Update
Due to a high volume of holiday orders, build times and shipping times are longer than usual. Thank you for your patience and understanding.

To ensure delivery by Christmas, please place orders by December 10.

Thank you for supporting small businesses this holiday season, Merry Christmas from our family to yours!
Heritage Sporting Products
A family owned and operated small business dedicated to quality American craftmanship and customer service. We pride ourselves on only using the best select grade hardwoods. All products are American made in our shop.
Custom orders welcomed.
Shop All Products
About Heritage Sporting Products
Heritage Sporting Products is a West Michigan based small business specializing in hand crafted firearm displays. We are family owned and guarantee that your purchase will be top quality as every finished piece has our eyes and hands on it from start to finish. We pride ourselves on attention to detail and superior customer service- customers are always pleasantly surprised to learn that when they call they are talking to the person who is actually building their gun rack. We take custom orders too- give us an idea and help design exactly what you are looking for. Thank you for supporting a small business, we appreciate each order that comes in and love seeing happy customer photos.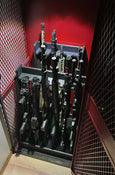 Custom Rack
Wow! Great customer service!!! I sent them a DM on Instagram asking about some possible custom work, got a message back wanting to chat on the phone with the owner himself. Went back and forth, put a plan into motion. Had constant communication and picture updates. Within a couple days I had the rack at my doorstep. Will definitely be doing business with them again. SUPPORT SMALL BUSINESSES!!!
Purchased: Custom AR Vertical Gun Rack
Title
March 17, 2022

Beautiful 10 Gun with Lockbox
I ordered a 10 gun vertical wall mount gun rack and it was very difficult to find a manufacturer for this exact product description. But Heritage went so far as to personally call me to advise its delayed delivery status. Called me! Nick not only expedited my order but the product is far superior in design and construction than I imagined and I couldn't be happier with my experience. I give Heritage Sporting Products a full 5 out of 5 rating for not only the quality of the product but also the sincere personal attention my order received.
Purchased: Vertical Gun Rack
March 12, 2022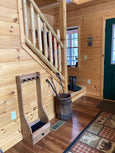 Vertical Gun Rack
My goal was to have you fab a small rack that I could keep right by my door at my hunter's cabin just for temporary storage the night before and the day of the hunt. Temporarily leaning guns against things was definitely not a safe option. It came out awesome! Thanks
Purchased: Vertical Gun Rack
January 4, 2022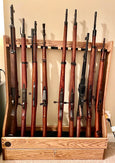 Love My 10 Gun Rack
Love my 10 gun vertical rack! Perfect for my WWII rifle collection! (Allied- U.S. MI Garand, French MAS 36, Russian Mosin Nagant, and British Enfield Jungle Carbine) (Axis- Two Japanese Type 99 German STG 44, German Mauser K98, and Italian Carcano.) Beautiful work Nick and Chelsea you were a great help with questions before the purchase. Thanks again!
Purchased: Vertical Gun Rack
August 23, 2021